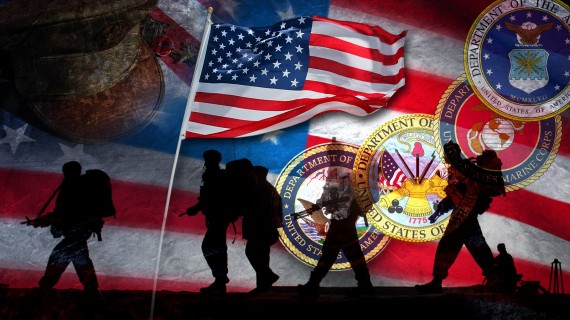 New and Noteworthy
Tis the Season
Everywhere you turn, you hear "Tis the Season for Giving" . For our members that "Season" is all year round. As Stan Mauldin put it "we have a hard working bunch of folk". Thank You for all you do to help our Veterans, their families, and our community. Here are a few things the Post is working on for December that we can use your help with.
Jerry Mahaffey, with some assistance from his "elves" is heading up the Secret Santa program. This program helps to provide gifts to the needy in our community so if you want to support this program please bring a gift or gifts by the Post and place them around the Christmas tree in the main hall or give them to any Post Officer. You will be giving the gift of Christmas to children who otherwise would not receive anything.
The American Legion Riders are working with the Tim Stewart Funeral Home in support of Operation Toy Soldier. This program is to help the families of active duty members who are deployed during the holidays. There is a large barrel just inside the door to the main hall where you can drop off your gifts for these families who are missing their loved ones this holiday season. The American Legion Riders will also be at the Snellville Army-Navy store on December 17th from 11am to 4pm cooking and helping to collect gifts for Operation Toy Soldier so please stop by and see them and bring a gift.
The Post is sponsoring a Children's Christmas Party on Tuesday December 20th from 4pm to 9pm, so please bring your children or grandchildren and come and enjoy the party!
Anniversary Dinner Pics
We have uploaded over 150 anniversary dinner photos… some samples below, but you can click on the link to our Flickr feed to see them all.
December newsletter
The December volume of our Post newsletter has been uploaded and you can click here to read or download the newsletter.
Save the Date!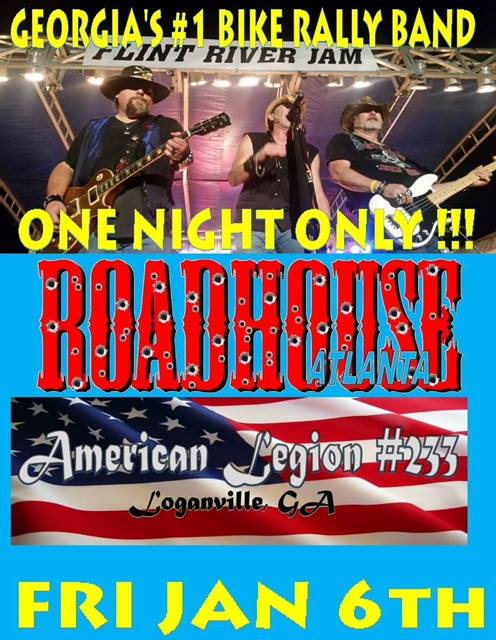 Kroger Community Rewards
Would you like to donate to the Post without it costing you a cent ? It's easy with Kroger Community Rewards. Just sign up, using the Kroger button to the right and each time you shop, the Post gets a small percentage of the total bill. If we had our 800 members participating, that small percentage would add up quickly. So please, take a moment and register, it will mean a lot to your Post!
Welcome Veterans and Friends of Veterans!
The American Legion in Loganville is open to EVERYONE!
Yes, that's right, the public is always welcome. The majority of the events held at the Legion do not require membership. If you are eligible to become a member but would still like to get an idea of who we are, please join us as our guest for any of our meetings. To determine eligibility please visit our eligibility page. Please note, you are eligible to become a member of the Auxiliary if you are a mother, wife, daughter, sister, grand-daughter, great-grand-daughter, or grandmother of members of The American Legion, and deceased veterans who served in the United States Armed Forces during the listed war eras. Sons of the American Legion members include males of all ages whose parents or grandparents served in the U.S. military and were eligible for American Legion membership.
Contact us today to attend one of our events, be our guest or sign up to become a member! We look forward to meeting you.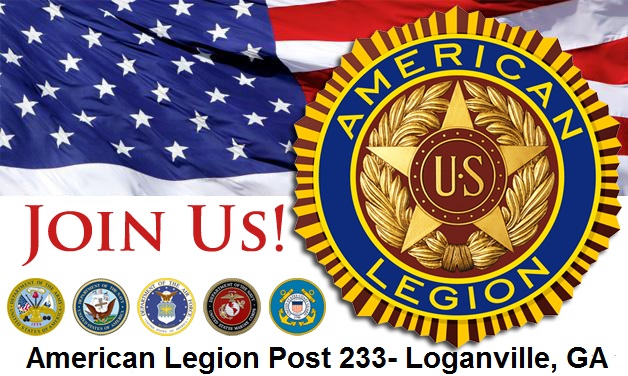 Recent Photos from the Post and our Members
Visit our Flickr feed to see more…