Half-Staff: Member Tributes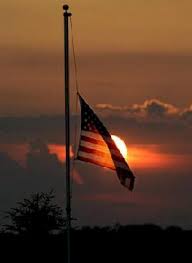 A page established January 2015 to provide information about our members who have answered the final bugle call. NOTE: Obituaries are maintained on this page only during the year of passing.

Arthur Eugene "Art" Rozier
Arthur Eugene Rozier, known to friends as Art, passed away unexpectedly Sunday January 6, 2019 at the age of 57.
He was preceded in death by his parents Walter Gray Rozier, Jr. and Jean Campbell Rozier, brothers Walter Gray Rozier III and Fred Campbell Rozier all of Lumberton, NC.
Art was a retired Lt. Col in the Air Force who served in numerous stations around the world.
After a brief time in public work, Art took his "dream job" of teaching young people as an Air Force ROTC instructor. He has taught for the past eight years at Monroe Area High School in Monroe, GA. Throughout his career, Art had been one of the top ranked pistol shooters in the USAF. He had continued to enjoy being a marksman with many friends in the area and continued to compete along the east coast.
Lt. Col. Rozier (ret) was loved by his students as a mentor, a parent figure and a friend. He would expect them to continue to strive to do their best in all their endeavors.
Surviving are his children Laura Hawks of Cumming, GA and Dylan and Brett Rozier of Jenson Beach, FL, and a brother, Joe Rozier of Charleston, SC.
In lieu of flowers, donations can be made to the Lt. Helton Memorial Foundation
http://www.ltheltonfoundation.org
Charles Robert Yancey
Charles Robert Yancey "High Pocket", age 90 of Loganville, passed away on Thursday, January 24, 2019.